AudioFile Home Theater VRS 1205
Powered Subwoofer Amp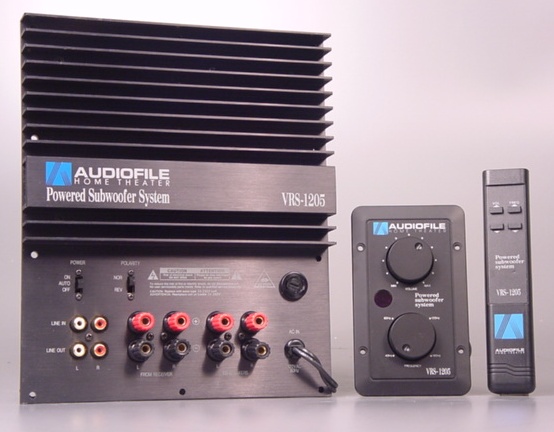 New from Apex Jr these Amps have 100W output. Low Level line in & line out RCA's High Levelbinding posts from receiver & to speakers - polarity switches Normal & Reverse
Power on - auto - off with remote that controls both the volume and the frequency with motorized pots.
Power output: 150Watts RMS at 4 ohm and at least 100W RMS at 8 ohm
Diamentions: Outside Aluminum plate 8 3/4" X 10 1/2 " Backside 7 1/2" X 9 1/8" Remote is 3 3/8" width 5 5/8" tall 4 1/2" deep
NEW SURPLUS $99.95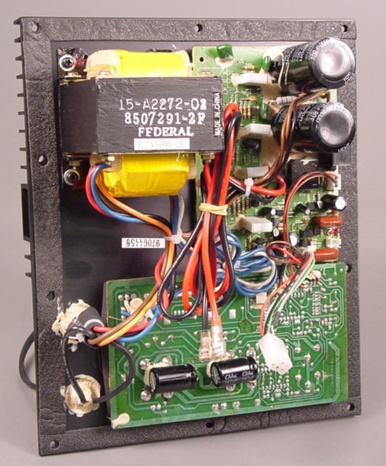 Here is a link using the M & K 150 by Nat Weens


Customer Comments
---
My name is Vaughn and I purchased your audiofile amp about a month ago. I just finished the box and I am so impressed, I just had to write you. This thing is worth the price for just the remote control and those lights! I built a small subwoofer to use with computer speakers. I put an 8" Attitude subwoofer from Parts Express ($35) and put it in their .5 cu. ft. speaker box. This amp not only sounds really good, but it has all the features anyone could want. I hope you have lots of them so I can build some more.
Vaughn
---
Hi Steve,
If anyone asks for more info, here is my input.
I just finished building a Subwoofer using the Audiofile Amp you offer. I
used a 2.2 cubic foot enclosure with a 3 inch by 9 inch PVC port, filled
the enclosure with 1 bag of polyester pillow stuffing. The woofer I used
was the 10 inch Peerless CC line #831727. 3/4 inch MDF cabinet. Total cost
of the sub was $225.00. It works very nicely, well worth the time and
money! The remote is a real nice feature.
BW
---
Here is a project built by Jason Lathrop using the Super 8 and the Audophile amp. The boxes are about 1.33 Cubes each and they are ported with a 3 inch flared precision port (About 11 inches long total)

Walls are made from .75 MDF. Each panel was treated with about 8 coats of under carriage spray before assembly.
Box is covered with Black Formica. The bottoms of each woofer are covered with Vinyl.
Front - http://www.geocities.com/maverick19_72/HT811/Front.JPG
Back - http://www.geocities.com/maverick19_72/HT811/Back.JPG
Angle - http://www.geocities.com/maverick19_72/HT811/Angle.JPG
Bottom - http://www.geocities.com/maverick19_72/HT811/Bottom.JPG
Powered Unit - http://www.geocities.com/maverick19_72/HT811/Powered.jpg
Slave Unit - http://www.geocities.com/maverick19_72/HT811/Slave.JPG
---

[ Home | Amps | Junior | Infinity| JBL12| Senior]