The Apex "Junior" Subwoofer Amp
With the success of the Bass Wave, ParaPix, & various other amps we have sold nearly 2000 amplifiers in the past 2 years. Thank You for all of your support. The feed back generated by this large number of sales has led us to develope our own line of amplifiers. We have listened to your requests and they have led to our first offering that we call the Apex "Junior" Amp. These amps are complete and ready to install. Discontinued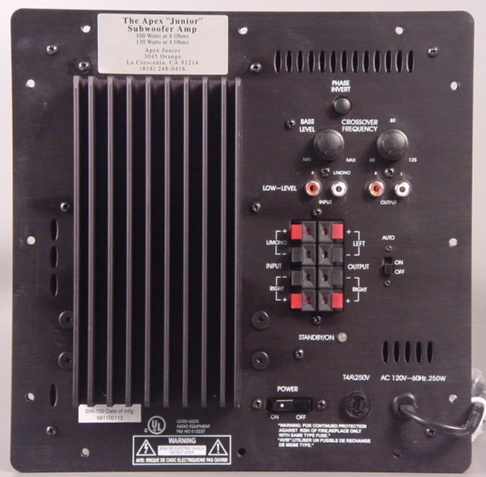 Features:
Low Level Input & Output RCA Jacks
Highlevel Input & Output Spring Terminals
Phase Inverter Switch
Red Led / Standby Green Led Power On
Auto Power On - Off Slide Switch
Discrete Output Stage
Separate Crossover Board
Relay Output Protection
Volume Knob - Bass Level Pot
9 3/4" x 9 3/4" x 2 3/4" Fully Enclosed
Spec's:
100watts @8 ohms, 130 watts @ 4 OHMS
THD <0.10 %
S/N Ratio >70dB
Input Sensivity High level 1 V, Low Level 85v
Freq Response (-3dB) 20 - 150 Hz
Variable Crossover Frequency 60 Hz - 125Hz
Crossover Slope -12 dB
Input Impedence High Level 1 K ohm, Low Level 47 K ohm
Auto Turn On Input Sensitivity 2 ~ 3 mV
Auto Turn Off Time 20 - 30 Minutes
Weight 9 lbs
115 VAC 60hz 250W $89.95 New
115 / 220Vac Switchable With Detachable Cord $94.95 New
For a project using the Junior check out this link from monster-hardware.com
Customer Comment
Steve,
I just finished the subwoofer and it sounds great. I attached a couple of photos so you could see what it looks like. I still have some pictures of the assembly on "roll film" that I have to get developed. I can't say that the amp provides enough power to crack plaster (like theShiva emails clients seem to love) but that isn't why I bought this unit. I have the volume set to about 1/3 and the room still shakes impressively when an explosion goes off. Yesterday, I watched Hunt for Red October and the soundtrack has the deep rumble of machinery going on throughout the submarine shots. This was very nicely duplicated by the subwoofer. My wife wasn't very happy about the concept of a large subwoofer in the living room when I first told her about it but when it was finished she told me to put it out in the room instead of behind the couch. When I get some more photos I will send them to you.

Will Christman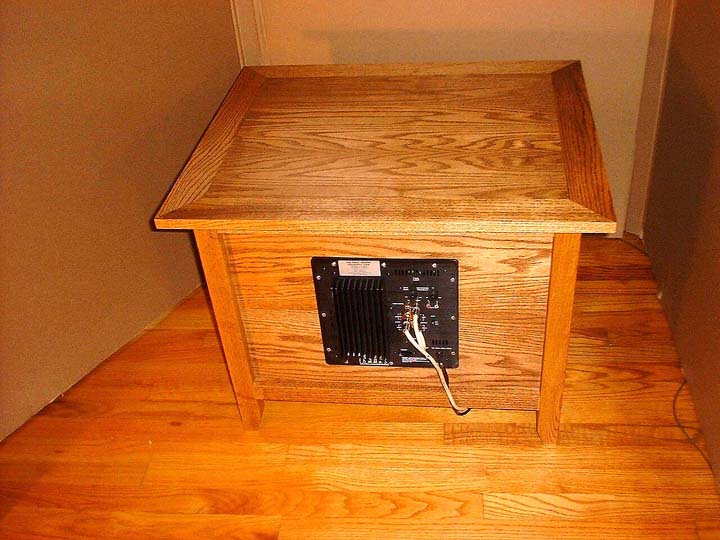 Here is another project by Joe Fleury using the Apex Jr Sub-amp along with the Titanic subwoofer in a 2 CuFt sealed enclosure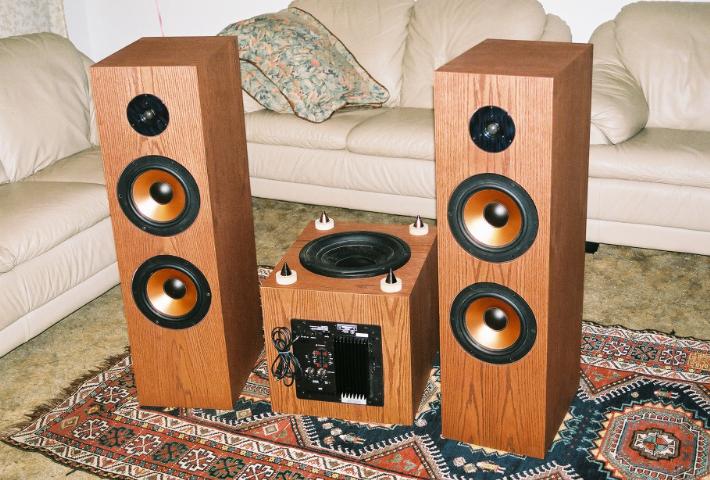 [ Home | New | Props| Jack | Amps | Junior | Infinity | JBL12 | Senior]