Line 6 Flextone Duo Plus Guitar Amp Circuit board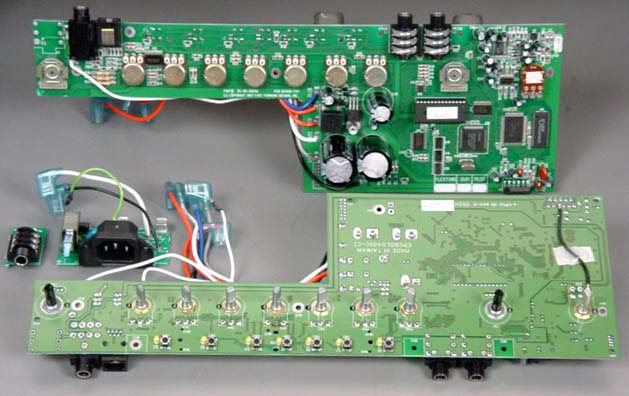 Build this board into an amp and receive the varity of great vintage tones with tube Tone modeling. You get the sound of a 1952 Fender Deluxe, a 1959 Fender Bassman, a 1964 Blackface Fender Deluxe, a 1964 Vox AC15, a 1964/65 Marshall JTM45, a 1968 Marshall Plexi, a 1986 Marshall JCM800, a 1994 Mesa Boogie Dual Rectifier, a 1989 Soldano SLO, a 1987 Roland JC120, a 1996 Matchless Chieftain, a 1960's Arbiter Fuzz AceFuzzbox; Plus 8 custom tones.....
More info on the Line 6's website Complete circuit board with all 3 option boards for $ 75.00 The manual can be downloaded at http://www.line6.com/pdf/manuals/EN/Flextone_Manual(1).pdf
Picture shows 2 of the 3 boards other one is the LM 3886T board included Transformer needed will be a Dual 59Vct and a Dual 9.75Vac
Hookup...
H10 Blue wire 9.75Vac
H11 White wire 9.75Vac
H7 Red wire 59Vac
H9 Red wire 59Vac
H8 Grey wire center tap for 59Vac
H1 White wire
H2 Black wire Speaker Wire
A heat sink is required on the output devices before turn on

Transformer needed is a 59Vct and 9.75V and is available from Line 6 Part # 11-30-8607 at a cost of $42.70
Thanks to Ken Berg we have a drawing of the panel of this amp along with a hole drilling diagram. These are in .pdf format.

More details available upon request.......call or e-mail